Beljonde: Diversity Sucks!
The Overview Page

Myths and histories about diversity – a free text by Bertram Eljon Holubek, Version 2.0 2021
Diversity freaks claim that it's nice to mix people of different race and quality. The idea silently became a worldwide liberal dogma that hardly can be challenged. But just like for instance that old Christian geocentric model, it is obviously faulty. For dorks diversity seems to be solid ground, on which they can build a new world of the future. In reality diversity is like a swamp, with alien things lurking in the lair.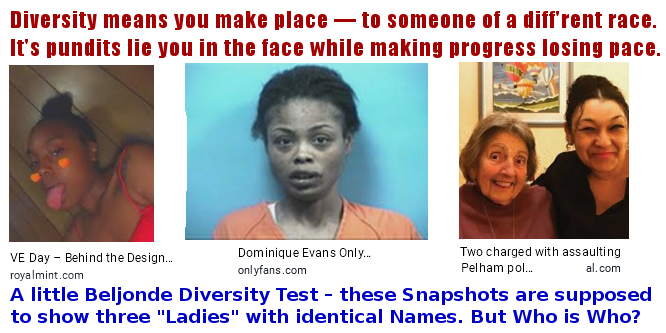 Now here we see the face of Dominique Evans. More precisely, these are some of the faces that Google shows up when we search for this name. Together with some face we also find a snippet of the according tale. So whose face belongs to whose tale? Even regarding these three negroid women, the correct answer should not be difficult. It is, in typical cases, indeed possible to value and distinguish people by the face. The same is also true when it comes to features like the colour of the skin. But if many politicians and pundits find that it's correct to not make such distinctions, or even say that races don't exist, that must make us worry about their honesty and mental sanity.
»Diversity built Britain«, says a 50 p coin that was issued by the British Royal Mint. Most loyal citizens don't care twopence whether this is true or not. Dominique Evans was the artist who put this slogan on the coin. On the website of the Royal Mint we read some gossip about her. But the main question seems to be a taboo: How on Earth could such a rather ugly and dark girl get such a coveted job? The correct answer must include the word diversity. Diversity means that people get jobs despite of the fact that they are less qualified than other people, just because they have the wanted diversity culture, skin colour and social skills. But the big problem with diversity rules is that they bring up people who are typically less intelligent, able and wise, worthy and truthful.