The Origins of the Piltdown Man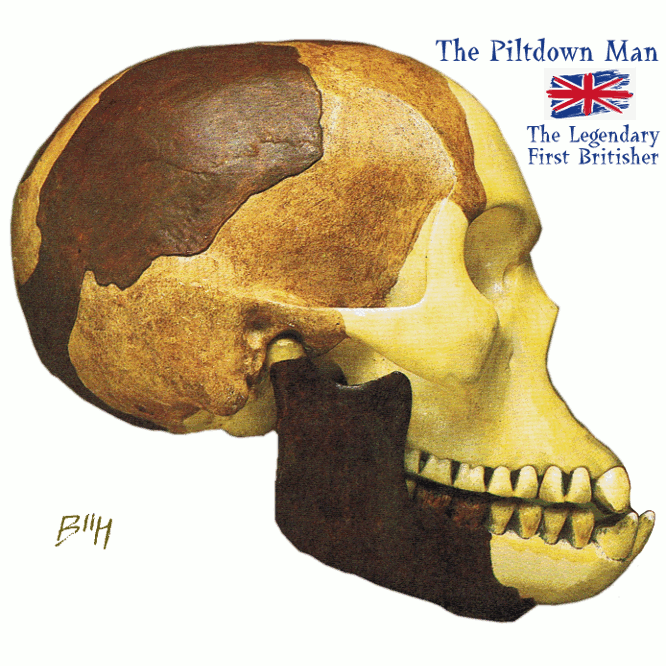 The Piltdown Man is a foggy forgery who became a modern British myth. Who was really at the origin of this scam? Investigators tend to forget about two guys who were present when the alleged find was made: clerics. Definitely some Bible badgers did produce more than one such forgery, to prove their absurd theory that this Earth was created only a few thousand years ago. However, in the Age of Enlightenment we live in, the real God clears up all such foggy stories.
Besides, the biggest mystery of this false find was that all the college experts of this era fell for it! They just liked the idea too much that this wise looking but still primitive guy had been their earliest ancestor. They disliked other real finds, like the skull of the Child of Taung. We can still learn today from this scandal story, that our senior experts can become massively fooled by their vain expectations and hopes for glory.
There is a sly spirit of falseness that fools people, call it false intuition. Learning the lesson the Piltdown Man can still teach means, to be more wary when it comes to modern science swindles. That starts with the Big Bang swindle, and it does not end with the Global-Warming-is-all-bad-and-our-fault swindle. Gladly there were always some British and European dissenters and sceptics who raised doubts against such big swindles. Now, with the help of the UTR, it is finally possible to find out the non-human people who are at the origin of such supernatural conspiracies. God too does this, to keep secret a wisdom that is not suitable for half-crazed and badly developed mortals.