Definitely Britain is in luck at the time of the Brexit. Christian religion is losing it's charms fast. It seems that Britain is one of the countries about to profit from this. It's a good sign that the European soccer cup finals were an all-British event in 2019. That reminds of the magic that admiral Nelson commanded. While Eurocrats plan to introduce majority vote taxes, Britain is ready for a nice gentlemen's leave.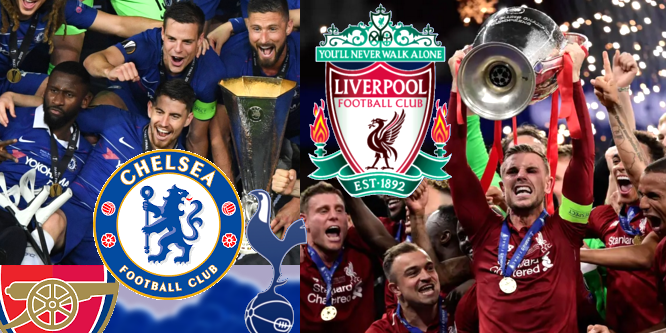 Britain fails to trust into the EU right now. Can it trust in God? Trust comes up with good destiny and management of this planet. It is rather obvious that well developed and fair people reap more of God's good magic, while darker types can't get away from bad old deceptions. The Brexit also means to classify and separate people of these two types.
In the year 2019 it turned out that British soccer teams could trust in their luck. The four finalists of the two big European soccer cup events all were British teams. Chelsea won against Arsenal, and Liverpool won against Tottenham. Absolutely, those British who are in doubts about the Brexit and hoped for a sign of destiny, can regard their wish granted.
Can the British trust the so-called Eurocrats, those people in charge? Old chairman J. C. Juncker will leave soon. He will foreseeably be replaced by the Deutsche former secretary of defence, a puny blonde. So what does Frau Ursula von der Leyen of the Christian Democrats understand of the tricky affairs of the EU? Let's suppose she is eager to get the job, and ready to learn fast. Still, the question of magic and luck is what this text tries to answer. How are the omens for Frau von der Leyen? Her name sounds suspiciously alien, reminding of the Star Wars movie princess Leia.
Anyway, the chances are high that, after a few more years, some EU sceptic will be in charge of the EU, a so-called populist. That's definitely the way the trend goes right now. The parties of the right sector, nationalists and populists and tough liberals are on the rise. But what does this mean when it comes to luck, destiny and religion? A short look into the agendas of the leading political parties on the European stage shows that many actors there are moreless Christians. So can they trust into Christian magic, and that means, on the imaginary Christian higher powers too? Here in Deutschland, one motto of the new coming national-liberal party AfD is: »Courage for the truth«. The upcoming new era is likely to become an era when truth matters more. That will mean, for instance, that it won't be as easy as it was to commit to the doctrines of old-time denominations. People won't be able to look away from the facts that astronomy presents. The sky is no curtain that hides Jesus, Mary and Santa from our views. Alien planets are out there. That fits well to the lore of the Universal Truth Religion, that worms from many alien planets influence us with rays, who eventually use the false identities of living, dead or fictitious people. The upcoming era of a new generation should become an era where outdated dogmas must make way for a search for the truth. Those times will become tough times for those Southerners who stick to religious nonsense and superstition. They can't easily learn to get away from the Bible, since the Bible has it that the Semites are in the favour of celestial powers, who must be regarded as treacherous and tyrannical, and naughty if not vicious, and cruel anyway. They let you play a game that can't be won by their rules! That is why the Bible announces the inescapable destruction of our home planet. Our hopes must be that there is a way out of this religious quagmire. Some brighter guys may become good and wise enough to break the evil spell that pushes and distracts, that misleads and inflicts pains.
The UTR teaches that this rare earth is inhabited by it's good God. A white goddess underneath is strong enough to grant luck to the few people who are worth it. God has great expectations. God expects some better people to achieve divine wisdom. That means, that these people learn that our reality is blunt and can be manipulated. All the others of inferior quality however can't have a seat inside of this lifeboat, that is supposed to escape from the foundering of the Christian churches. For the dark masses of lesser people, it remains valid what the Bible teaches: They can't learn to be as wise as God is. The good fruit of divine wisdom is verboten for them, they are unwelcome in God's garden of eternal youth, wellness and bliss. The risk is too high that all the lesser people may abuse divine wisdom. That is one main reason why the better people should better separate from the masses. It's obvious that even our best guys are still not well enough developed, while they would greatly benefit from some lore that teaches to them how to live well and prosper. That is what Jesus was teaching, that a comforter would come after him to lead people into the truth. But I won't need to explain miracles to the deluded, who can't believe in nor even perceive them.
Not the Bible, but history and the lore of manifest destiny showed that white western people have better luck and development perspectives in general. It always puzzled people what mechanism might explain this. Charles Darwin too had a hunch that evolution also means a natural tendency towards beauty and quality. The Brexit also was decided because many British sense that they are more in the favour of destiny than others. Is this because of the laws of evolution, that they hope to win better luck at a greater distance to the darker peoples of Europe? The UTR has it that God, the hardly known deity of this planet, cleverly uses natural mechanisms and interstellar links to keep this world going and evolving. Right now the time is getting near for the end of Christianity. The consequence is that the magic of religion, that used to fool and lead people for so long a time, slowly fails. We may regard the burning church of Notre Dame in Paris as a clear sign for this.
This planet is right now the habitat of dark masses of people. Simple people and leftists demand right now what we may call Bolshevism, the tyrannical and egalitarian rule of the masses. Democracy means in theory that the best performing and wisest people get voted into the leading positions. The rule of the masses however means that standards of wealth, wisdom, education and morale should be levelled out in all of the world. Often Christian clerics claim that everybody should be »in the boat«. But we need to learn that cosmic devils lurk behind their compassion, who try to manoeuvre our planet into doom.
The Main Points on just one Page
When it comes to the European Union, the typical British were always some more sceptical than the typical continental Europeans. The EU was founded as a rather Roman Catholic club, and still a majority of darker Southerners dominates in it's member countries. In the discussions about the still missing Brexit treaty we hear about commercial and tax regulations, like the backstop rules. But few people really care enough to analyse such details. In the British house of commons they trust their experts and decide emotionally. A majority of the British just doesn't trust into the EU! Isn't the EU a good thing in general? The big question is what development perspectives it has. For the typical talking heads on the Deutsche (German) parastatal TV, the EU naturally seems to be a good thing. These people fail to even realize how different the mood is right now in Britain. It plays a role that the EU became some kind of replacement of the post-Roman Deutsche Reich, that dominated Catholic Europe during the Middle Ages. The Vatican was the spiritual anchor of this empire, and in the post-war era it became a spiritual backbone of the EU. The British though have different religious traditions. Right now many want to win back more national sovereignty. This is a European trend that is explainable also with a look back to the end of the Soviet block. During the Cold War era the tense situation made many western Europeans move closer together. But that danger is history now. Instead the Vatican seems to be in need of a perestroika, a strategy of modernization. The main problem is that Christian religion is getting soft now, before it ends. Many British have a hunch now that they might profit from this situation more than other nations. Looking back at history, Britain indeed seems to have had more luck than other nations. Already in the era prior to the French revolution, Christian religion slowly got weak; until it was brutally abolished by the revolutionary rabble. Especially the typical Southerners of Central Italy reacted to the sudden weakness of the Catholic authorities with a dramatic slump in performance and will power. Their leaders were looking up to the British in search of guidance and leadership. It is the same mood that makes some Eurocrats like beg the British to please stay within the EU, and to maybe help them to teach a rebellious youth to behave more like gentlemen. The British though have to fear that billions of darklings eventually come to them asking for burden-sharing. The Brexit makes them step aside. Already in the Age of Reformation, Britain was not the nation chosen by destiny to lead the world into an era of more mental freedom and spiritual truth. While the Christians will be asked in 2033 to admit that Jesus is most probably dead, while tricky aliens from faraway space seem to abuse his likeness, the truly British and other bright white people can hope that they will profit from this change to become the winners in a post-Christian new era. In the official Brexit debates, economic profit indeed plays a major role. But that word should now get a spiritual dimension too. What can we say to console a car worker who just lost his job, since his Japanese employer decided to close the factory? It will be tough for the British now, to learn again how to build their own cars. But they can hope to win a better life and personal pride with the Brexit. Christianity used to teach people that life is too damn hard and short and only really begins after death. The end of Christianity gives some the chance to learn that they should better care well for themselves during the life-span that destiny gave them. But only some better people are now entitled to learn that much of God's wisdom. The best westerners could however profit from God even much more. God's wisdom is not available for the Semites, the Bible says this too. The Brexit separates promising British from Southerners who are too bad for a great new era. For instance, acquiring God's wisdom means to master things that always remained mysterious so far.
Take magic! Magic makes recent fantasy movies like Avengers so fascinating and successful. But what you learn in the movie theatre doesn't help you to understand crackpot assassins like the Christchurch killer; nor Horatio Nelson, Britain's most respected hero at sea. Already in his era Britain separated from continental Europe and, due to zeal, discipline, skills and bravery, gained great luck. In such an era, the traditional gods and saints seem to lose much of their magic. That were the conditions that helped people to better realize what natural noble human quality is. God can not only teach about magic, but also use magic to perform the greatest miracles. Right now God's objective is however to firstly prepare for the procreation of Æsir, half-divine superheroes.